The Blue Mountains is a rugged region west of Sydney in Australia's New South Wales
An epic, nature-focused day out for adventurous travellers to the Blue Mountains. Spot kangaroos in the wild, hike through the spectacular Blue Mountains, enjoy a picnic lunch, swim in secluded waterf...
Book Now
Starting From AU$89.00
($71.28)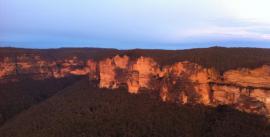 This Blue Mountains experience is the most diverse and active tour available to the Blue Mountains. Includes award winning Featherdale Wildlife Park, bushwalks in the national park, waterfalls, a r...
Book Now
Starting From AU$115.00
($92.10)
Experience the best of the Blue Mountains, Australia's most visited world heritage national park with bushwalks and incredible views.
Book Now
Starting From AU$135.00
($108.12)